Castiglioncello in Italy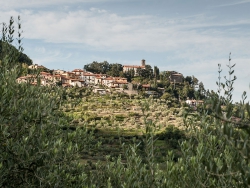 A little oasis surrounded by nature, near to the main cities of Tuscany, but looking as laid down in a distant world, made of peace, silences, quiet and rest. A place where you can discover the gifts of nature, before savouring them on our table. This is Castiglioncello.
A little jewel, in the heart of the Bisenzio valley, between the Calvana chain and the Tuscan-Emilian Apennines, witness to the history and to the culture of the region: indeed, behind the passion for welcome, the care of details and the respect for nature, the Agritourism Castiglioncello conceals a past linked to the Counts of Mangona – the Alberti of Prato, who were its first owners, in the Middle Ages.
The Agritourism Castiglioncello will offer you a holiday of complete relaxation, made of glimpses at the wonderful surrounding landscape and at the life of the animals that live in these woods. You will live adventures discovering the history and the curiosities of this territory, and you will taste the thousands of savours that the farmhouse Castiglioncello and the cookery of the region will introduce to you.
Rediscover your energy and restore your senses, thanks to the marvellous colours which encircle Castiglioncello, enjoy the sight, while you are immersed in the fresh water of our swimming pool. Stay silent to be surprised by the sounds of nature and relish the delights of the old-time Tuscan recipes and all the flavour of the home-made food. The leaves of the trees and the fruits of our fields, under your touch, will make you rediscover the pleasure of living amid nature. Breath the fresh air, rich in scents of flowers, to feel your senses gone into raptures. It will be a paradise for your mind and your body.
It is passion that leads us and we hope to share all the features that make us fall in love with Castiglioncello everyday…with you.